Dear Supporters,
July was an exciting month! We hired a marketing organization to beef up our website and other social media. We are now tweeting (https://twitter.com/myTeamTriumphCO), our facebook page is seeing a lot more activity (https://www.facebook.com/myTeamTriumphRockyMountain), and our website looks great (http://www.mtt-rockymountain.org/). Through this increased traffic, we have been receiving more contacts from folks about being Captains and Angels already. This is all due to support from folks like you!

We had three Captain teams participate in our second race – the Donor Dash 5K in Wash Park in Denver on Sunday, July 21st. Photos showing our teams are attached. We are now gearing up for our third event, the Broncos Back to Football Run at Sports Authority Field on September 7th. Captains and Angels will be contacted shortly to see if you can participate. As always, we welcome anyone to come out and support us in the event.

We recently supported Team weWin – a female team comprised of Win from Aspen and her triathlete cousin, Barbara Ann from the Bahamas – in the Boulder 70.3 Ironman by providing the team with one of our jogger strollers (and our National organization provided a bike trailer). This race was training for the team as they will be competing in the Hawaii Championships in October. We wish the best of luck to Team weWin in their training for Kona!

Again, thank you for your support – we couldn't help others triumph without you!
mTT-Rocky Mountain Chapter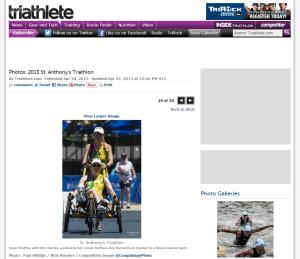 http://www.dancanshred.com/Dan_Can_Shred/Team_We_Win.html
http://triathlon.competitor.com/2013/04/photos/photos-2013-st-anthonys-triathlon_74687
http://www.aspentimes.com/news/7018778-113/charles-bernard-win-ironman
http://www.thenassauguardian.com/index.php?option=com_content&view=article&id=39972&Itemid=50
http://www.aspendailynews.com/section/home/158402
http://www.streetinsider.com/Press+Releases/The+Iron+Will+to+Win,+Triathlete+Cousins+Win+Charles,+Barbara+Ann+Bernard+Are+IRONMAN-Inspired/8444403.html
http://www.prweb.com/releases/2013/6/prweb10858322.html
http://www.tribune242.com/news/2013/jun/26/your-vote-could-help-duo-compete-ironman/